Metrics-based Service Management
eBook
Author: Dmitriy Isaychenko and Pavel Demin
Publisher: TSO (The Stationery Office)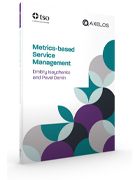 Metrics-based Service Management helps you achieve your IT management goals and deliver high-quality IT services using a sound basis of measurement and evaluation to pinpoint issues, inform decisions and provide employee motivation.
The book was published in Russia (in Russian) in 2019 and this is an exclusive English translation.
The book provides practice-tested approached and methods for building a measurement and evaluation system. As well as practical examples of how to apply these systems to various real-world situations.
Helps CIOs, senior managers in IT and process manager use measurement and evaluation to deliver high-quality IT services.
Answers the question: 'how can I develop and implement a measurement system to achieve my organizational goals?'
Helps overcome the challenge of the inherent complications to the measurement of processes, projects and services.
Helps managers build a measurement and evaluation system using critical analysis and adaptation to their specific task and organization.
Alternative formats