The Official DVSA Guide to Tractor and Specialist Vehicle Driving Tests eBook
Author: Driver & Vehicle Standards Agency (DVSA)
Publisher: TSO (The Stationery Office)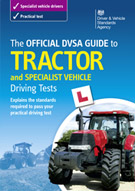 The ONLY official guide that fully explains the standards required to pass the practical test for drivers of tractors and other specialist or unusual vehicles, including road rollers, track-laying vehicles, mowing machines and pedestrian-controlled vehicles.
Three reasons to buy it:
1. Background information - identify your vehicle category and understand the licensing requirements
2. Get your licence - every aspect of the driving test is described in detail, with tips for success
3. Stay safe - advice on keeping yourself and other road users safe after your test.
Written by the Driver and Vehicle Standards Agency, the people who set the tests.
Available fom your devices' eBook store: