Guide to Towing - DVSA Safe Driving for Life Series
eBook
Author: Driver and Vehicle Standards Agency (DVSA)
Publisher: TSO (The Stationery Office)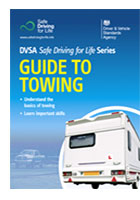 If you need to quickly and easily understand the basics of towing, then this official DVSA guide can help. Packed with information and advice, it tells you everything you need to know before you hitch up a trailer - and how to make sure you have a safe journey.
There's also advice for caravan and horse-box owners, as well as tips, facts and links to useful resources throughout.
Five reasons to buy it:
1. Stay legal - make sure you're aware of the laws concerning towing
2. Keep yourself safe - find out how to tow safely and securely
3. Consciously couple - learn the right way to attach a trailer to your vehicle
4. Pass your test - explains what will happen on the day of your category B+E test and the exercises you'll have to perform
5. For everyone - suitable for all drivers who tow, whether they have a trailer, caravan or horse box. There's useful information for each trailer type
Available from your device's eBook store:


If you're interested in this, you might also be interested in...

Motorway Driving - DVSA Safe Driving for Life Series (eBook)

Breakdowns and Incidents - DVSA Safe Driving for Life Series (eBook)

Ecosafe Driving - DVSA Safe Driving for Life Series (eBook)

Winter Driving - DVSA Safe Driving for Life Series (eBook)

Accompanying A Learner Driver - DVSA Safe Driving For Life Series (eBook)

Basic MOT Checks - DVSA Safe Driving For Life Series (eBook)