Accompanying A Learner Driver - DVSA Safe Driving For Life Series
eBook
Author: Driver and Vehicle Standards Agency (DVSA)
Publisher: TSO (The Stationery Office)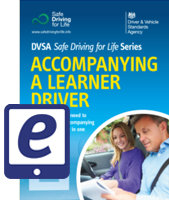 Are you teaching your child, partner or friend how to drive? Do you know what skills learner drivers need to master in order to drive safely and confidently and pass today's driving test?
Accompanying a Learner Driver, from the Driver and Vehicle Standards Agency (DVSA), has everything you need to support someone who's learning to drive. This expert eBook covers essential topics such as journey planning, manoeuvres, junctions and roundabouts. There's advice on insurance, buying a car and post-test practice, and also a handy section on defusing difficult situations - perfect if you're worried about keeping your cool!
Designed to complement the work of an approved driving instructor (ADI), this mini-guide will help you to ensure the learning journey is a successful and safe experience.
Four reasons to download it:
1. Stay legal - find out what you need to have in order to accompany a learner
2. Keep safe - learn how to keep yourself and your learner safe
3. Help them pass - help your learner grasp the essential skills they'll need to pass their test and drive safely for life
4. Learn from the experts - insider tips and advice from DVSA, the people who set the tests
Available from your device's store:


If you're interested in this, you might also be interested in...

Motorway Driving - DVSA Safe Driving for Life Series (eBook)

Guide to Towing - DVSA Safe Driving for Life Series (eBook)

Ecosafe Driving - DVSA Safe Driving for Life Series (eBook)

Winter Driving - DVSA Safe Driving for Life Series (eBook)

Breakdowns and Incidents - DVSA Safe Driving for Life Series (eBook)