Winter Driving - DVSA Safe Driving for Life Series
eBook
Author: Driver and Vehicle Standards Agency (DVSA)
Publisher: TSO (The Stationery Office)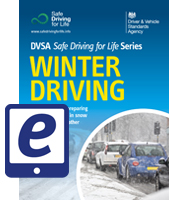 Get your vehicle ready for winter with this essential practical guide. It provides advice on how to drive safely and confidently in snow and ice as well as underlining the importance of regular maintenance on your vehicle.
Three reasons to buy it:
1. Be prepared - learn how to get your vehicle ready for winter conditions
2. Keep yourself safe - refresh your driving knowledge. Make sure you know the key skills you need to drive safely in snow and winter weather
3. It's the law - explains key Highway Code rules that MUST be obeyed to avoid fines, penalty points, disqualification or even prison
This eBook is available from your device's store:




If you're interested in this, you might also be interested in...

Motorway Driving - DVSA Safe Driving for Life Series (eBook)

Breakdowns and Incidents - DVSA Safe Driving for Life Series (eBook)

Ecosafe Driving - DVSA Safe Driving for Life Series (eBook)

Guide to Towing - DVSA Safe Driving for Life Series (eBook)

Accompanying A Learner Driver - DVSA Safe Driving For Life Series (eBook)