Motorway Driving - DVSA Safe Driving for Life Series
eBook
Author: Driver and Vehicle Standards Agency (DVSA)
Publisher: TSO (The Stationery Office)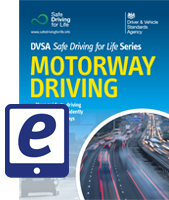 This guide provides the latest advice and information on how to drive safely and confidently on UK motorways. Make sure you know how to tackle difficult driving conditions and what to do if you break down or are involved in an incident.
It also explains the new rules on learner drivers being allowed on UK motorways.
Five reasons to download it:
1. Keep yourself safe - refresh your driving knowledge. Make sure you know the rules of the motorway to keep yourself and others safe
2. Stay up to date - this guide contains the latest information on smart motorways (formerly active traffic management or managed motorways) from Highways England
3. It's the law - explains key Highway Code rules that MUST be obeyed to avoid fines, penalty points, disqualification or even prison
4. For learners - this guide will help learner drivers and explain the new rules allowing them to drive on UK motorways from 4 June 2018
5. When things go wrong - explains what to do if your vehicle breaks down on the motorway, and how to deal with an incident or emergency
This eBook is available from your device's store:




If you're interested in this, you might also be interested in...

Guide to Towing - DVSA Safe Driving for Life Series (eBook)

Breakdowns and Incidents - DVSA Safe Driving for Life Series (eBook)

Ecosafe Driving - DVSA Safe Driving for Life Series (eBook)

Winter Driving - DVSA Safe Driving for Life Series (eBook)

Accompanying A Learner Driver - DVSA Safe Driving For Life Series (eBook)