The Scientific and Conceptual Basis of Incapacity Benefits
Gordon Waddell and Mansel Aylward
Author:

Gordon Waddell and Mansel Aylward

Publisher:

TSO (The Stationery Office)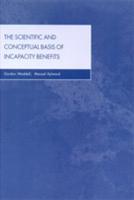 The number of people on long-term incapacity benefits has more than trebled since 1979 despite gradual improvements in objective measures of health. Many IB recipients are not completely incapable of work and many want to work, so reform of the system is a matter of social justice as well as expenditure.
The aims of this report are to:
develop a theoretical framework for incapacity benefits;

analyse the developments and trends since 1948; and

provide a scientific evidence base for reform.