Maintaining Pavements in a Changing Climate
Author:

Department for Transport

Publisher:

TSO (The Stationery Office)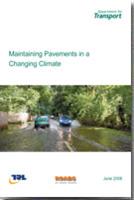 Add to Basket
Climate change - and the extreme weather associated with it - is having a considerable impact on the UK's highways and pavements. Drier summers and wetter winters have led to pavement and highway deterioration, all of which must be repaired. In order to avoid increased disruption of services and highway maintenance costs, it is vital to plan for and adapt to the climate change predicted for the future.
The implications of a changing climate for highway maintenance, and on different pavement types, are described in 'Maintaining Pavements in a Changing Climate'. Also contained within the report is advice for highway engineers on assessing the risk of different climate hazards for their network.
Recommendations are given on how to reduce the risks associated with climate change by ensuring good construction and maintenance practice and using adaptive maintenance techniques. Also included are case studies demonstrating the impact that weather can have on highways. Adaptive techniques already trialled, both in the UK and abroad, are used to illustrate the guidance.
Contents:
Introduction

Purpose and Scope of Guidance

Climate and Pavements

The Effects of Climate on Asphalt Pavements

The Effects of Climate on Rigid Pavements

The Effects of Climate on Modular Pavements

The Effects of Climate on Flexible and Rigid Footways

The Effect of Climate on Foundations

Climate Parameters that Impact on Highways and How These Will Change

Implications of Climate Change for Pavements

Examples of Good Practice

Recommendations.

Find similar publications here: