The Hip & Knee Book: Helping you cope with osteoarthritis
UK Edition - Single Copy
Author:

Dr. Nefyn H Williams et al.

Publisher:

TSO (The Stationery Office)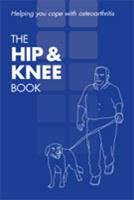 'The Hip & Knee Book' is an indispensable resource for anyone that has osteoarthritis affecting their hip or knee. The advice contained in this booklet is based on the latest medical research and has been developed with the help of people with osteoarthritis.
The booklet is written in an informal, user-friendly manner that provides clear advice on how to cope with osteoarthritis. It not only covers how to manage osteoarthritis but outlines what osteoarthritis is, what causes it, and how it can be diagnosed.
'The Hip & Knee Book' is designed to help sufferers understand what has happened to them and that, despite the illness, there is plenty that can be done to help overcome the pain and increase activity.
The booklet explains what sufferers can do, why they should do this, and how to go about doing it. All exercises are accompanied by 'how to' illustrations.
Key features:
What is osteoarthritis?

What causes osteoarthritis?

Diagnosing osteoarthritis

Managing your osteoarthritis

Control of pain

Stretching and strengthening exercises

Health professionals

Aids and devices

Specialist treatments

Other sources of information and support.
This booklet is available to order as a pack of 10 (ISBN 9780117067301) and is also available as a bilingual Welsh and English edition (ISBN 9780117039339). Please see below for details.
Find similar publications here: