The Whiplash Book – US/Canada Edition
Pack of 10 copies
Author:

Kim Burton, Tim McClune, Gordon Waddell

Publisher:

TSO (The Stationery Office)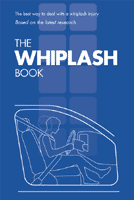 How you can deal with a whiplash injury, based on the latest medical research.This booklet is designed to help people cope with whiplash injury so that they can recover quickly and avoid long term pain and disability. It is based on the latest advice and has been written by a multidisciplinary team whose specialisms cover orthopaedics, biomechanics, osteopathy. As the basic message is to keep moving, it includes a number of neck exercises.
'Whiplash is controversial and surrounded by conflicting ideas. There is a demand from patients for accurate and effective information and advice', according to authors Gordon Waddell, MD, Kim Burton, DO.Phd. and Tim McClune, DO. 'The Whiplash Book has been produced as a direct response to that need.'
The authors hope to see the booklet used in accident and emergency departments where many patients begin their medical odyssey after an accident. They would also like to see the booklet employed in the practices of general practitioners, chiropractors, physical therapists, and others engaged in the primary care of whiplash: 'The idea is to get it to patients at the earliest possible stage,' says Burton, 'after proper triage, of course.'
What is most attractive about The Whiplash Book is the simple use of language. It is refreshingly free of medical jargon.
Only available in packs of 10.
For significant discounts on bulk orders of The Whiplash Book – US/Canada Edition, please call TSO Customer Services on +44 (0)333 200 2425 or e-mail customer.services@tso.co.uk.
Please note: This US edition is for sale ONLY to customers in the US and Canada. UK editions of this and other TSO evidence based guidance titles, along with the 'Get Back Active' video, are available below.
Find similar publications here: