Roadcraft - The Police Driver's Course on Advance Driving DVD
Confidence, Awareness, Manoeuvres, Skills
Author:

The Police Foundation

Publisher:

TSO (The Stationery Office)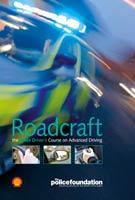 Essential viewing for any driver who wishes to improve their driving skills and safety record, this DVD, 'Roadcraft - The Police Driver's Course on Advance Driving', tracks police candidates on an advanced driving course run at the Metropolitan Police Motor Driving School, Hendon, and provides an exposure to the rigorous tuition which drivers receive during their training.
Expert tutors put the candidates through their paces, giving an insight into what it takes to be an advanced driver. Featuring Skid pan manoeuvres, night and motorway driving, Roadcraft will enhance the road confidence and awareness of anyone wanting to improve their driving skills to cope with today's demanding driving conditions.
This DVD complements the Roadcraft handbook, and is ideally suited for civilian drivers who would like to improve their skills in preparation for an advanced driving test such as those run by the Institute of Advanced Motorists (IAM), and the Royal Society for the Prevention of Accidents (RoSPA).
Find similar publications here: