Report On The Inquiry Into The Education And Training Inspectorate And School Improvement Process
NIA 132/11-15, Fifth Report of Session 2011/15 - Report, Together with the Minutes of Proceedings of the Committee Relating to the Report, Minutes of Evidence, and Written Submissions
Author:

Northern Ireland Assembly - Committee for Education

Publisher:

TSO (The Stationery Office)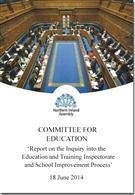 The report 'Report On The Inquiry Into The Education And Training Inspectorate And School Improvement Process (NIA 132/11-15)' concludes that professional, independent, broadly-based, balanced inspection of schools is and should continue to be an essential component of the school improvement process.
The Committee makes several recommenations, including:
The Department should adequately resource school improvement services so as to equitably support improving outcomes in all schools across Northern Ireland;

School improvement services should be aligned with school inspection in a single organisation in line with the practice in Scotland; and

The governance arrangements for the new inspection and improvement service must ensure the professional independence of inspection with an appropriate separation between this and the improvement function.
It is difficult to reconcile the very different reported experiences and perceptions of the school inspection process, in some part owing to poor or unforeseen inspection outcomes and a high stakes environment created by concerns relating to school sustainability.
However, the Committee also felt that schools had reasonable concerns that would be addressed by providing improved communication,more transparent practices in respect of inspection moderation, and a more independent complaints procedure coupled with more reliable school feedback channels.
In respect of school inspections, the Committee agreed that a more collaborative approach between ETI and schools was preferable and that this would be facilitated by greater use of 3rd party questionnaires, revised inspection reports (written in plain English for parents while providing more detail for schools), use of less pejorative descriptors and a consistent role for District Inspectors on inspection teams with more time for pastoral support.
Find similar publications here: