Report On Department Of Finance And Personnel - Collaborative Procurement And Aggregated Demand
NIA 153/11-15, Eighteenth Report of Session 2011-15 - Report, Together with the Minutes of Proceedings of the Committee Relating to the Report and the Minutes of Evidence
Author:

Northern Ireland Assembly - Public Accounts Committee

Publisher:

TSO (The Stationery Office)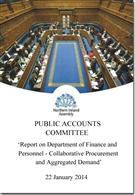 The report 'Report On Department Of Finance And Personnel - Collaborative Procurement And Aggregated Demand (NIA 153/11-15)' examines the current procurement structures of the Department of Finance and Personnel (DFP), and calls for a review.
Local public procurement accounts for around £2.7 billion of expenditure each year. Procurement is governed by the Procurement Board, which was created in 2002 and is responsible to the Executive and accountable to the Assembly.
The Central Procurement Directorate (CPD) within the DFP and seven Centres of Procurement Expertise (CoPEs) which encompass Roads Service, NI Water, Translink, Health Estates, Procurement and Logistics Service (for Health), Education and Library Boards, and the Northern Ireland Housing Executive undertake procurements and report to this Board.
The Committee finds that the current structures are not creating enough opportunities for more efficient procurement, and that there is a lack of a joined up collaborative strategy. It is also unacceptable that DFP and the wider public sector do not have ready access to or share the basic management information necessary to facilitate effective collaboration.
Other findings include:
The DFP has set unambitious collaborative procurement savings targets;

There is evidence of arm's length bodies paying several times more than the lowest prices for common goods like laptops and computer monitors; and

There could be potential tensions between promoting collaborative procurement and supporting the development of Small and Medium-Sized Enterprises and micro-businesses (those with fewer than ten employees).
The Committee recommends that CPD and the other CoPEs ensure that these businesses are not unfairly disadvantaged by increased collaboration.