Report on the Cyclists (Protection Headgear) Bill
Northern Ireland Assembly Report NIA 59/10/11R, Sixth Report of Session 2010-2011 - Report, Together with the Minutes of Proceedings Relating to the Report and the Minutes of Evidence
Author:

Northern Ireland Assembly: Committee for the Environment

Publisher:

TSO (The Stationery Office)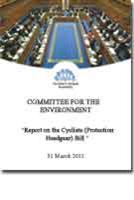 'Report on the Cyclists (Protection Headgear) Bill (NIA 59/10/11R)' is the Committee for the Environment's consideration of the 'Cyclists (Protection Headgear) Bill' and their recommendations in light of this consideration.
The aim of the Bill is to require cyclists of all ages to wear protective headgear when cycling on any public roads or paths, or in parks. The objective of the Bill is to reduce death and serious injury amongst cyclists.
Under the Bill, it would be the responsibility of the police to enforce the provisions. The proposed penalty for breach of the provisions would be an on-the-spot fine of £50 but breach of the provision would not constitute a criminal offence. However, in the case of a first contravention, the fine could be waived where the person issued with the penalty charge notice presents at a police station with a new helmet and receipt for its purchase.
Cycling organisations such as CTC (Cyclist Touring Club - the national cyclists organisation) and the Northern Ireland Cycling Initiative (NICI) voiced opposition to the Bill while advocating a voluntary approach to wearing of helmets. The British Medical Association Northern Ireland (BMA NI) supports the Bill and advocates the compulsory wearing of cycle helmets. However, it believes that the first step should be to achieve higher rates of voluntary use e.g. through mass educational and promotional campaigns.
Key to the cycling organisations' opposition to the Bill is their assertion that the evidence that wearing a helmet reduces the number or the severity of head injuries is flawed or at best contradictory.
Headway, a head injury support organisation in favour of the Bill, and Brake, a road safety charity, state that the evidence is clear that helmets can save lives and can help prevent lifelong disability. It presents evidence from Australia, New Zealand, the USA and Canada to highlight the effectiveness of compulsory helmet wearing to reduce head injury.
A theme running through submissions voicing opposition to the Bill is that rather than focus on making helmets compulsory there are more cost-effective measures that government should pursue in order to make cycling safer. These include providing the necessary cycle-friendly infrastructure, promoting cycle awareness to vehicle drivers and reducing the residential speed limit to 20mph. These points are also made by CycleNation (The Federation of UK Cycling Campaign Groups) which goes on to ask if it is right that the burden of care should fall to the potential victim of an accident (the cyclist) when there is much more scope for improvement in driving-related matters.
The BMA NI noted that should the legislation proceed then an appropriate standard of helmet should be designated.
Find similar publications here: