Report on Key Issues and Future Challenges
Northern Ireland Assembly Report NIA 54/10/11R, Fourth Report of Session 2010-2011 - Report, Together with the Minutes of Proceedings and other Evidence Relating to the Report
Author:

Northern Ireland Assembly: Committee for Regional Development

Publisher:

TSO (The Stationery Office)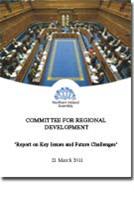 'Report on Key Issues and Future Challenges (NIA 54/10/11R)' sets out the Committee for Regional Development's consideration, and the views of its key stakeholder organisations, of the key issues that the Committee and the Department for Regional Development have considered throughout the 2007-2011 Assembly mandate.
It also identifies the future challenges that might be presented to an incoming Committee for Regional Development, and suggests how these challenges might be addressed.
Based on the Committee's work to date, these challenges include the impact that the 2011-2015 Budget will have on the work of the Department for Regional Development and delivering in the areas of water and sewerage services, accessibility and sustainable transport, and networks and gateways.
Find similar publications here: