PRINCE2 Agile® - Translations
The strength of PRINCE2 lies in the areas of project direction and project management whereas agile has a very strong focus on product delivery.
When PRINCE2 and agile are combined, project direction, project management and project delivery are all optimized to create the world's most complete project management solution.
PRINCE2 Agile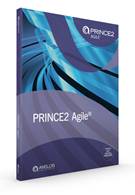 This guide brings together risk management principles, an approach and process with a set of interrelated steps. It supports decision-making and advises how these principles, approach and processes should be embedded, reviewed and applied within different risk contexts.
German:
Polish:
Dutch: