PRINCE2 Agile®
Effective until 31 December 2021*, the use of printed out versions of Official AXELOS PDFs, and the use of PDFs or official eBooks on a second e-device (portable digital devices such as smartphones, tablets or laptops), is permitted when sitting an open-book exam that is proctored by PeopleCert:
Read the important details

*these changes will be reviewed accordingly at the end of December, taking into consideration the situation at that time.
The strength of PRINCE2 lies in the areas of project direction and project management whereas agile has a very strong focus on product delivery.
When PRINCE2 and agile are combined, project direction, project management and project delivery are all optimized to create the world's most complete project management solution.
The official PRINCE2 Agile portfolio includes:
PRINCE2 Agile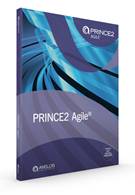 As a blended approach, PRINCE2 Agile gives project managers the skills and knowledge to benefit from agile delivery, whilst maintaining purposeful levels of control with PRINCE2.
Available formats: