Traffic Signs
The Traffic Signs Regulations and General Directions 2016
DfT circular 01/2016
Author:

Department for Transport (DfT)

Publisher:

TSO (The Stationery Office)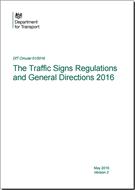 Add to Basket
This Circular relates to S.I. 2016/362 (see below) which comes into force on 22 April 2016, and prescribes the designs and conditions of use for traffic signs placed on or near roads in England, Scotland and Wales.
S.I. 2016/362 revokes the Traffic Signs Regulations and General Directions (TSRGD) 2002 and replaces them with an updated, revised and consolidated TSRGD. The TSRGD amendments made in 2004, 2005, 2006, 2008 and 2011 have been revoked and incorporated into the new TSRGD. This Circular is aimed at traffic signs practitioners and others with responsibility for traffic management. It explains the measures introduced and how these differ from the previous regulatory regime - both in terms of prescription and structure - and in the context of the Government's policy on traffic signs
This circular is hole punched ready for insertion into the TSRGD SI Binder (see below) so you can keep it for reference next to the SI it relates to.
Find similar publications here: