International code on intact stability 2008, 2020 edition
Paperback
Author:

International Maritime Organization (IMO)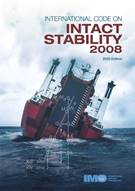 International Code on Intact Stability, 2008 (2008 IS Code) provides mandatory and recommended stability criteria and other measures for ensuring the safe operation of ships, to minimise the risk to such ships, to the personnel on board and to the environment.
The 2020 Edition features:
An update of the 2008 IS Code, including all amendments that will have entered into force on 1 January 2020.

Minor additions and amendments to the mandatory part A of the Code.

Amendments to the Code's recommendatory part B, including substantial additions to chapter 2 on Recommended design criteria for certain types of ships and chapter 3 on Guidance in preparing stability information, as well as the provision of a new annex 3.

Criteria based on the best state-of-the-art concepts available at the time they were developed; and influences on intact stability, as contained in the previous edition.

Explanatory Notes and the Unified Interpretations to the 2008 IS Code.
This publication should be of interest to maritime administrations, ship manufacturers, shipping companies, education institutes and others concerned with intact stability criteria
Find similar publications here: