IMO
Show me:
FTP Code: International Code for Application of Fire Test Procedures 2010
2012 Edition
Author:

International Maritime Organization (IMO)

Publisher:

International Maritime Organization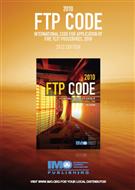 The 2010 FTP Code provides international requirements for laboratory testing, type-approval and fire test procedures for products referenced under SOLAS chapter II-2. It comprehensively revises and updates the current Code, adopted by the MSC in 1996.
The 2010 FTP Code includes tests for:
Non-combustibility

Smoke and toxicity; test for "A", "B" and "F" class divisions

Fire door control systems

Surface flammability (surface materials and primary deck coverings)

Vertically supported textiles and films

Upholstered furniture

Bedding components

Fire-restricting materials for high-speed craft

Fire-resisting divisions of high-speed craft
It also includes annexes on products which may be installed without testing and/or approval and on fire protection materials and required approval test methods.
Find similar publications here: