Child Health
Show me:
Psychological First Aid: Facilitator's Manual for Orienting Field Workers
Author:

World Health Organization (WHO)

Publisher:

WHO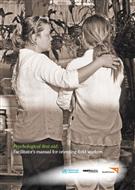 This manual is designed to orient helpers to offer psychological first aid (PFA) to people following a serious crisis event. PFA involves humane, supportive and practical assistance for people who are distressed, in ways that respect their dignity, culture and abilities.
The instructions and materials in this manual are for a half-day orientation (4 hours excluding breaks) to prepare helpers to support people recently affected by very stressful events. If you have more time available for the orientation, extra activities and slides are included in text boxes to deliver a full day orientation (five and a half hours excluding breaks). Where possible, one should organize full day orientations to allow for deeper learning.
It is important to adapt the orientation and materials to the local culture, language and context, and to the likely kinds of crisis situations in which your participants would be helping. Remember to build in extra time if you are using a translator. It is helpful if the translator is familiar with the PFA Guide and orientation materials beforehand.
This facilitator's manual is to be used together with the Psychological First Aid: Guide for Field Workers.
Find similar publications here: