Pocket Book of Hospital Care for Children: Guidelines for the Management of Common Illness - 2nd edition
Author:

World Health Organization (WHO)

Publisher:

WHO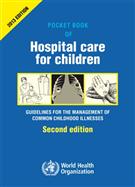 This book was selected "British Medical Association Medical Book of the Year 2014" and was awarded "First prize" in the paediatrics category of the British Medical Association Medical Book Awards 2014.
The Pocket Book is for use by doctors, nurses and other health workers who are responsible for the care of young children at the first level referral hospitals. This second edition is based on evidence from several WHO updated and published clinical guidelines. It is for use in both inpatient and outpatient care in small hospitals with basic laboratory facilities and essential medicines. In some settings, these guidelines can be used in any facilities where sick children are admitted for inpatient care.
The Pocket Book is one of a series of documents and tools that support the Integrated Management of Childhood Illness (IMCI). The guidelines require the hospital to have (1) the capacity to carry out certain essential investigations, such as pulse oximetry, blood glucose, blood smear examinations for malaria parasites, estimation of haemoglobin, packed cell volume and full blood count, blood group and cross-match, and basic microscopy of cerebrospinal fluid and urine; and where possible blood and urine culture, ultrasound and basic x-rays; (2) essential medicines for the care of seriously ill children. Advanced and high care treatment options, such as intensive care or mechanical ventilation, are not described.
These guidelines focus on the management of the major causes of childhood mortality in most developing countries, such as newborn problems, pneumonia, diarrhoea, malaria, meningitis, septicaemia, measles and related conditions, severe acute malnutrition and paediatric HIV/AIDS. It also covers some common surgical conditions that can be managed in small hospitals.
Details of the evidence on which the Pocket Book is based can be found on WHO website from the published guidelines provided in the bibliography.
These guidelines are applicable in most areas of the world and may be adapted to suit country specific circumstances.
"... Wow! If only this book had been around when we were overseas in Namibia and India respectively... This book is an absolute must for anyone caring for children in areas of the world where resources are limited. If you are toying with the idea of doing a stint overseas (VSO/RCPCH fellowship, for example) this book will convince you to go. It speaks of an overwhelmingly "real" medicine where children are properly sick, where your skills count, where you can change lives, and where the banding of your rota pales into insignificance... It comes highly recommended." -- Archives of Disease in Childhood (from the first edition)
Find similar publications here: