Guidelines for Safe Recreational Water Environments Volume 1 - Coastal and Fresh Waters
Author:

World Health Organization (WHO)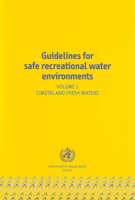 This publication describes the present state of knowledge regarding the impact of recreational use of costal and freshwater environments upon the health of users and discusses the control and monitoring of any hazards.
Specific hazards include:
drowning and injury

exposure to cold, heat and sunlight

water quality

contamination of beach sand

exposure to algae and their products

exposure to chemical and physical agents

dangerous aquatic organisms
The primary aim of the guidelines is the protection of public health. They are intended to be used as the basis for the development of international and national approaches (including standards and regulations) to controlling the health risks from the hazards above, as well as providing a framework for local decision making.