German Homoeopathic Pharmacopoeia
Including 17th Supplement 2020
Publisher:

Medpharm Scientific Publishers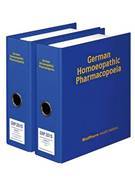 Key features:
This updated edition has been translated into the English language, making this widely acclaimed work available to the global community of:
Homoeopathic manufacturers;

Homoeopathic physicians;

Non-medical practitioners;

Pharmacists; and

National registration authorities.
Professionals engaged in all aspects of the manufacture, evaluation, registration or dispensing of homoeopathic substances or medicinal products now have access to a wealth of information comprising about 600 monographs and general texts including reagents, vehicles and excipients analytical and the very important manufacturing methods. Homoeopathic and anthroposophical manufacturing methods are included as well as the methods used in spagyrics and the production of organ-derived preparations. The analytical methods have been harmonized with the European Pharmacopoeia (Ph. Eur.) and the German Pharmacopoeia (DAB). Each monograph is uniformly structured, listing:
origin;

description;

characteristics;

identification;

purity tests; and

assays.
And providing information on the basic dosage forms and their:
manufacture;

characteristics;

identification;

purity tests;

assays; and

storage.
The loose-leaf format makes it easy for the user to keep his collection up to date.
Find similar publications here: