Building Regulations
Show me:
The Building Regulations 2015: Approved Document Q: Security - Dwellings: 2015 Edition
National Building Specification (NBS)
Publisher:

NBS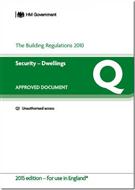 This new Approved Document gives guidance on how to comply with Part Q1 of the Building Regulations, which states that a building must be designed and constructed in such a way that it adequately resists unauthorised access from outside the building and unauthorised access from within the building to flats within the building. This is an essential reference for anyone undertaking building work.
This new Approved Document will take effect on 1 October 2015 for use in England. It does not apply to work started before 1 October 2015, or work subject to a building notice, full plans application or initial notice submitted before that date provided that the work is started on site before 1 October 2016.
The guidance in this Approved Document applies only to new dwellings, which includes dwellings formed by a material change of use. Approved Document Q contains the following sections:
Section 1: Doors

Section 2: Windows

Appendix A: Key terms

Appendix B: Bespoke timber doors
The Building Regulations are concerned with protecting the health and safety of those in and around buildings. Anyone intending to carry out building work in England and Wales is required by law to obtain building control approval to ensure Regulations are complied with.
The Approved Documents provide technical guidance on ways of complying with the Building Regulations. They are continuously revised in line with new legislation. Therefore it is essential to keep fully updated with the latest editions and amendments.
Find similar publications here: