Approved Document B: Fire Safety (Volume 2 - Buildings other than Dwellinghouses): Incorporating Insurers' Requirements for Property Protection (2nd Edition)
Author:

FPA/RISC Authority

Publisher:

NBS/RIBA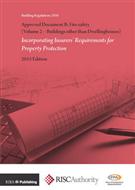 Protecting property as well as people from fire is a key business objective and designing-in appropriate measures from the start can considerably reduce the cost of implementation.
Beyond the critical life safety issues, major fires will severely interrupt business, with the cost to the UK economy exceeding £7 billion every year and the statistics for consequent business failure remaining high.
In this guide, the extra measures needed for property protection and business resilience are combined with the essential life-safety measures required by Approved Document B: Fire Safety (Volume 2).
The guide reproduces the official Approved Document with enhanced, comprehensive annotations by RISCAuthority, providing the design community with a practical and easy-to-use shortcut to meeting the requirements clients and their insurers as well as the fundamental Regulations.
New to this edition:
The 2013 revision of Approved Document B: Fire safety (volume 2 - buildings other than dwelling houses).

Insurance providers' requirements, updated to reflect modern methods of construction, the green agenda and modular construction.

Appendix for protection of buildings made of combustible structure (such as timber).
Find similar publications here: