Building Regulations
Show me:
Building Regulations Approved Document L1A: Conservation of fuel and power in new dwellings (2013 edition) DCLG
Author:

Department for Communities and Local Government (DCLG)

Publisher:

NBS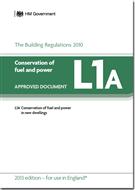 This edition - Part L (2013 edition, effective 6 April 2014) requires new build homes to be 6% more energy efficient than those built under the 2010 edition's standards.
More information
In addition, there are new requirements for fabric energy efficiency - which covers both dwelling fabric energy efficiency and target fabric energy efficiency.
Section 2 covers the requirements and provides helpful further guidance. At the same time there is a change in the way CO2 emissions are calculated using a new system which results in a 'concurrent notional dwelling specification' or the elemental recipe.
Designers and builders should find this 2013 edition easier to understand and hopefully feel more confident that they will be able both to show compliance and sign off the calculations with fewer redo's.
This 2013 edition also explains that 'if the actual dwelling is constructed entirely to this specification it will meet the Target Emission Rate and better the TFEE rate'. The specification assumes for example, 100% energy efficient lighting, SEDBUK 89.5% efficiency for the mains gas boiler, and natural ventilation.
Section 5 provides the specification and guidance. It stresses that following the specification may not provide the most cost efficient option for the project and encourages exploration of alternative options, provided the end result complies with the 'limiting fabric parameters' elsewhere in the AD. The parameters - elemental backstops - have not changed from the 2010 edition.
This Approved Document contains an abridged version of the BRE's SAP 2012 (October 2013, 9.92 edition).
For use in England.
Find similar publications here: