Fire Safety – Risk Assessment
Animal Premises and Stables
Author:

Department for Communities and Local Government

Publisher:

Department for Communities and Local Government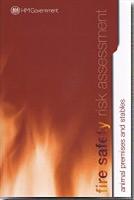 New fire safety rules affecting all non-domestic premises in England and Wales came into force in October 2006, in accordance with the 'Regulatory Reform (Fire Safety) Order 2005 (SI 1541/2005)' (ISBN 0110729455). This is one of a series of publications which sets out recommendations and guidance for employers, managers, occupiers, and owners of particular types of premises on how to carry out a fire risk assessment and how to identify general fire precautions required (including fire detection and warning systems, firefighting equipment, escape routes, signs, and training).
'Fire Safety – Risk Assessment: Animal Premises and Stables' covers all equine establishments, stables, livery yards and other animal establishments. It may be used in conjunction with other guides in the series, such as the guide relating to factories and warehouses ('Fire Safety Risk Assessment – Factories and Warehouses' – ISBN 1851128166, available below), to inform risk assessments in other establishments as appropriate.
These guidance notes will help you to comply with the new law. There are 12 'Fire Safety - Risk Assessment' Guides in the series and one Supplementary Guide – 'Means of Escape for Disabled People' – all of which are available below.
Find similar publications here: