A Guide to Microorganisms And Their Control
Guideline 68
Author:

Dr Greg Jones

Publisher:

Campden BRI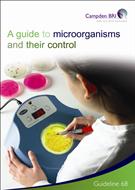 A guide to microorganisms and their control supplements existing work on food microbiology, presenting information in an easy to read format, making it accessible to non-microbiologists.
The Guideline answers common microbiological questions, making it an essential reference for new product development and during the reformulation of existing products. It contains a series of monographs on the pathogens and spoilage organisms of most concern to the food and drink industry.
Each monograph contains:
A brief introduction to the organism

Minimum conditions for growth and destruction

A list of its sources

An outline of foods particularly at risk

Guidelines or legislative limits for the organism in food

Key methods of control

Likely defects or illnesses caused by the organism
Contents include:
Table of food types and microorganisms of concern

Pasteurisation and heat treatments

Glossary of terms

Indicator groups

A-Z list of microorganisms
eBook Format You can now download this Guideline from your device's eBook store.
Find similar publications here: