BNF 84 (British National Formulary) September 2022 - March 2023
Paperback
Author:

Joint Formulary Committee

Publisher:

Pharmaceutical Press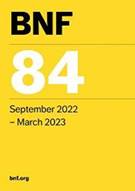 The British National Formulary (BNF) is the first choice for concise medicines information. Trusted by healthcare professionals across the world to support confident decision-making at the point of care.
The new edition (BNF 84) provides up-to-date guidance on prescribing, dispensing, and administering medicines, plus legal and professional guidelines.
Extensive content updates in the new edition will include:
new monographs & dose changes

updates from the MHRA, Public Health England, UK Health Security and NICE
More detailed information to follow.
Please visit www.pharmpress.com/BNF for a further list of updates