Drugs in Use - Case studies for pharmacists and prescribers - Sixth Edition
Paperback
Author:

Linda J.Dodds, Kay Woods

Publisher:

Pharmaceutical Press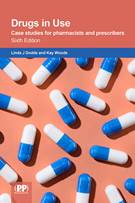 Drugs in Use: Case Studies for Pharmacists and Prescribers helps readers to bridge the gap between theoretical knowledge about medicines and the practical application to their patients.
The sixth edition of this popular text has been extensively revised to ensure that a primary care focus is included whenever possible, in order to reflect the fact that drug management of chronic conditions increasingly takes place in primary care, and that this is an expanding role for pharmacists working in GP surgeries.
Key Benefits
Newly revised edition of a popular text from new contributors

More primary care focus included

New chapters on atrial fibrillation, chronic asthma, general surgery and more

Self-study questions and answers alongside each case study
With self-study questions and answers to accompany each case, it will prove a valuable resource to students as an aid to their studies and to pharmacists and prescribers, particularly new GP practice-based pharmacists, as a useful tool to their continuing professional development.
About the Editors
Linda J Dodds is Postgraduate Specialist Lecturer at Medway School of Pharmacy, Universities of Greenwich and Kent at Medway. Kay Woods is Head of Therapeutics, Pharmacy Practice Group, Aston University.