Conducting your Pharmacy Practice Research Project: Third Edition
Paperback
Author:

Felicity J. Smith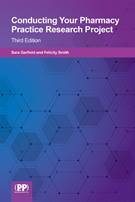 Research in pharmacy practice and medicines use is an important component of many undergraduate, postgraduate and professional programmes. It is seen as invaluable in informing professional practice and service development.
The new edition of Conducting Your Pharmacy Practice Research Project has been strengthened and comprehensively revised and expanded in recognition of the increased diversity of projects undertaken by students. Additionally, it now includes new chapters on types of projects and patient and public involvement.
This clear and concise handbook considers the stages of the research process in logical order, from planning of the project through to dissemination of the findings.
Contents:
Part 1: Preparation, planning and management
Introduction

Types of projects

Setting up the project, protocol development and ethics

Project management

Patient and public involvement

For supervisors
Part 2: Scientific enquiry and research/service evaluation methodology
A scientific approach to your project

Reviewing the literature

Study design

Sources of information, datasets, sampling and recruitment

Data collection: survey research and questionnaires

Data collection: interviews and focus groups

Data collection: prospective methods

Existing datasets and secondary analyses

Data processing and analysis
Part 3: Writing up and dissemination of finding
The project report

Dissemination of the findings