Martindale: The Complete Drug Reference: 40th Edition
Hardback
Author:

Robert Buckingham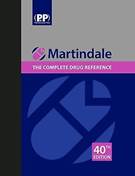 Martindale is depended upon by healthcare professionals throughout the world for its reliable and comprehensive information on international drugs and medicines. It is widely recognised for its unbiased and authoritative nature, as well as its unprecedented international coverage, including information from 43 countries and regions.
A team of experts use the most clinically relevant and reliable information, giving healthcare professionals a complete resource for reference on drugs and medicines.
Martindale contains proprietary drug information on preparations available worldwide, and remains a critical tool for identification of the local equivalent of a prescribed preparation and for assessing what alternatives might be suitable when needed.
Breadth: No other source of drug information contains the wide range of content or the same level of detail, making it the ideal first-line reference work as well as a trusted source of information for detailed and complex drug enquiries

Global coverage: The leading resource in terms of international content, including information from over 43 countries

Objectivity: Respected for the accuracy of content, appraised and authored by experts with editorial independence from the pharmaceutical industry. Based on information from published papers, regulatory sources and guidelines, with extensive referencing

International adoption: Recognised, trusted and adopted worldwide