Rules and Guidance for Pharmaceutical Distributors 2017
The Green Guide
Author:

MHRA (Medicines and Healthcare products Regulatory Agency)

Publisher:

Pharmaceutical Press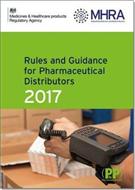 This new 2017 edition of Rules and Guidance for Pharmaceutical Distributors (the Green Guide) provides you with a single source of guidance to, and legislation for, the distribution of medicines in Europe and the UK. This tenth edition has been updated to incorporate the revised EU Guidelines on Good Distribution Practice.
The Green Guide reproduces all the elements of the new Rules and Guidance for Pharmaceutical Manufacturers and Distributors 2017 (the Orange Guide) that are relevant to distributors. So if you're involved in the wholesale supply, distribution and brokering of medicines for human use and the distribution of active substances, this is the one-stop guide you need.
Key features
In addition, it includes new sections on:
The guidelines on principles of Good Distribution Practice of active substances for medicinal products for human use (2015/C 95/01)

Matters relating to unlicensed medicines

Sourcing and exporting medicinal products - non-EEA countries

Data integrity

The EU regulation on safety features for medicines
It includes revised sections on:
Qualification of suppliers and customers

Controls on certain medicinal products

Parallel importation and parallel distribution

The application and inspection process for new licences: "what to expect"

Updated UK legislation

Temperature control and monitoring
This title supersedes the 2015 edition, ISBN 9780857111722, published 15 January 2015.
Find similar publications here: