British Standards
Show me:
Information security management systems: Requirements
BS EN ISO/IEC 27001:2017
Author:

British Standards Institution (BSI)

Publisher:

BSI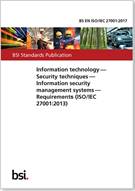 Part of the 'Information technology: Security techniques' standards.
Essential advice to help technical personnel to devise suitable and effective plans to systematically sample the food environment, ensuring the safety of food produced in that environment.
Also includes requirements for the assessment and treatment of information security risks tailored to the needs of the organization.
The information security management system preserves the confidentiality, integrity, and availability of information by applying a risk management process and gives confidence to interested parties that risks are adequately managed.
It is important that the information security management system is part of and integrated with the organization's processes and overall management structure and that information security is considered in the design of processes, information systems, and controls.
An information security management system implementation should be scaled in accordance with the needs of the organization.
Find similar publications here: