Committees
Show me:
Report On Account NI: Review Of A Public Sector Financial Shared Service Centre
NIA 173/11-15, Twenty-Second Report of Session 2011-15 Report, Together with the Minutes of Proceedings of the Committee Relating to the Report and the Minutes of Evidence
Author:

Northern Ireland Assembly - Public Accounts Committee

Publisher:

TSO (The Stationery Office)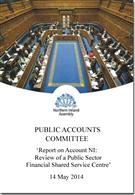 'Report On Account NI: Review Of A Public Sector Financial Shared Service Centre (NIA 173/11-15)' examines the performance of Account NI, which processes more than one million transactions a year worth over £10 billion for 12 government departments and 18 other public bodies. There are a further 45 public bodies who could use Account NI services but have chosen not to do so.
The services provided to Account NI customers include:
checking and paying supplier invoices; making grant payments;

reconciling bank accounts; and

maintaining accounting records.
The Committee found that it costs Account NI £9.73 to make a payment to a supplier, and concludes that this cost is extraordinarily high. The NI Audit Office has estimated that if Account NI reduced its costs to comparable international performers, it could save £3.4 million a year.
There is a lack of clear evidence that Account NI has delivered value for money, given that it has had £213 million investment since the project started in 2000. It is unclear if Account NI had made the projected savings of £43 million of public funds which were featured in its business case.
The Committee is encouraged that, on average, Account NI pays government suppliers in just seven days, well within the Executive's target of ten days. However, Account NI has much more to do to ensure it represents the best and most cost effective option for potential new customers and that it maximises the benefits from the public's considerable financial investment in the project.