Report on the Northern Ireland Housing Executive: Management of Response: Maintenance Contracts
NIA 99/11-15, Twelfth Report of Session 2011-15 - Report, Together with the Minutes of Proceedings and Minutes of Evidence
Author:

Northern Ireland Assembly - Public Accounts Committee

Publisher:

TSO (The Stationery Office)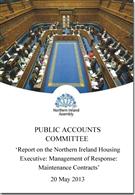 'Report on the Northern Ireland Housing Executive: Management of Response: Maintenance Contracts (NIA 99/11-15)' concludes that the Housing Executive failed in its duties to manage and be accountable for the services it provided. Basic failures in governance and management have exposed the Housing Executive to a very significant risk of fraud, impropriety and poor value for money over many years.
The report is also critical of the Department for Social Development, the Department responsible for overseeing the Housing Executive. Annual expenditure on response maintenance, which covers day-to-day repairs, minor adaptations and immediate repairs, is in the region of £50 million. The report shows a catalogue of failures on the part of the Housing Executive which had a serious impact on the quality of accommodation provided to many Housing Executive tenants.
Failings of the Housing Executive idenified by the Report include:
contracts were inappropriate, out of date and not fit for purpose;

many District Maintenance teams were not delivering the required standard of service and were failing to challenge the poor performance of contractors;

there were serious flaws in how jobs were selected for inspection, how inspections were carried out, the timeliness of these inspections and how the results were recorded and reported; and

reports were actively withheld from, or not reported fully, to the Board or Audit Committee.
The report welcomes the commitments given by both the Housing Executive and the Department to introduce substantial changes to improve the way the Housing Executive manages itself.