Report on The Bioscience and Technology Institute
NIA 48/11-15, Eighth Report of Session 2011-15
Author:

Northern Ireland Assembly: Public Accounts Committee

Publisher:

TSO (The Stationery Office)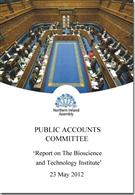 'Report on The Bioscience and Technology Institute (NIA 48/11-15)' examines the reasons for the failure of a major innovation project, the Bioscience and Technology Institute Limited (BTI).
Its primary objective was to provide biotechnology incubator facilities through the development of a specialist building at Belfast City Hospital (BCH). The project secured a grant of £2.2 million from four funding public bodies; loan funding was provided by the bank (initially £1.5 million) and a private donor (£1.2 million).
Due to difficulites in progressing the project at BCH within the required funding timeframe, BTI purchased 'Harbourgate', a shell of a building four miles away from the Belfast Harbour Estate, where they planned to relocate the development.
BTI had inadequate funds to complete the fit-out of the new building, the costs of which had been substantially underestimated. As a result, the building never became operational and did not generate any income for BTI.
In November 2005, with the company unable to service its loan funding, the bank took possession of Harbourgate and sold it the following month. The sale proceeds of £4.55 million were sufficient to repay BTI's debt to the bank in full, with the surplus used to make a part-payment on the secured debt to the private donor. No moneys were available to pay the other creditors, including the funding bodies. BTI remains technically insolvent and steps are now being taken to wind up the company.
This case is one of the starkest examples of incompetence and mismanagement the Committee has ever examined and stands as a lesson in how not to manage a major innovation project.
Find similar publications here: