Report on the Executive's Draft Budget 2011-15
Northern Ireland Assembly Report NIA 44/10/11R, Third Report of Session 2010-2011 - Volume I: Report, Together with the Minutes of Proceedings Relating to the Report and the Minutes of Evidence
Author:

Northern Ireland Assembly: Committee for Finance and Personnel

Publisher:

TSO (The Stationery Office)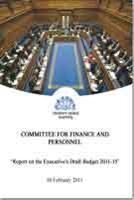 The Northern Ireland Executive's draft Budget 2011-15 is distinctive in that it establishes the spending plans for government departments for the next four years, within a wider fiscal and economic context which has been unparalleled in recent years.
The 'Report on the Executive's Draft Budget 2011-15' discusses how the Executive has been faced with the unenviable challenge of having to develop its budget, not only against the backdrop of an international financial crisis affecting public finances and economies across the globe, but more particularly on the foundation of swingeing public spending cuts arising from the UK Spending Review, announced in October 2010.
The Committee has sought to establish a sound evidence base upon which to make a critical but constructive response to the draft Budget 2011-15, which will inform the Minister of Finance and Personnel and the wider Executive in preparing a final draft Budget.
The Report contains some forty-five key conclusions and recommendations, in addition to numerous supplementary observations and proposals, both at a strategic and a departmental level.
Conclusions and recommendations include:
criticisms of the budget process and presentation;

concerns around particular savings and spending proposals;

suggestions for improving financial management practices, transparency and the longer-term efficiency of public spending going forward;

propositions on levers for supporting wider economic development; and

recommendations for new measures and additional considerations to be factored into the revised draft Budget.
Find similar publications here: