Commons Select Committees
Show me:
The procurement of the National Roads Telecommunications Services: forty-sixth report of session 2007-08 report, together with formal minutes, oral and written evidence
House of Commons papers 558 2007-08
Format:

Corporate Author:

Great Britain Parliament House of Commons Committee of Public Accounts

Author:

Edward Leigh (chairman)

Publisher:

TSO (The Stationery Office)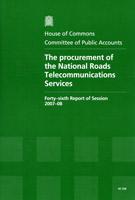 The strategic road network in England, consisting of 4,800 miles (7,700 km) of trunk roads and motorways, is managed by the Highways Agency (the Agency), an Executive Agency of the Department for Transport. Since 1998, the objective of the Agency has been to reduce traffic congestion through improved traffic monitoring and travel information. In September 2005, the Agency signed a 10½-year Public Private Partnership (PPP) contract for the National Roads Telecommunications Services (NRTS) with GeneSYS Telecommunications Ltd. At contract award, the Agency expected that the contract would cost £385 million (present value in 2004 prices). The procurement took five years to complete, rather than the original estimate of 21 months, and the procurement process cost five times the original budget of £3 million. The Committee criticises the 17-month short-listing period. It also points to the use of the Public Sector Comparator cost as a single figure estimate, rather than a range, which is not good practice in determining whether a Public Private Partnership approach is good value. The Agency did not deploy effective controls over the work of its advisers, with only two staff proving insufficient to ensure the advisers conducted their work efficiently, and there were no incentives in the advisers' contracts that expressly encouraged efficiency. Careful preparation and production of the bid documents is praised. From October 2007, following a two-year upgrade of the telecommunications systems, the new services became operational and benefits for road users from other Agency projects dependent on the NRTS are beginning to be realised.