Restructuring the Post Office Network
HC 593, Eighth Report of Session 2006-07 – Report, Together with Formal Minutes
Author:

House of Commons – Trade and Industry Committee
[?ProductPublisher:?]
Price:
[?DiscountedPrice:?]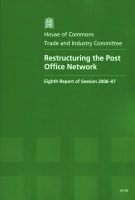 'Restructuring the Post Office Network (HC 593)' contains the Government's response to the Committee's report on the plans for reducing and restructuring the post office network, laid out by the Government in the April 2007 report 'Stamp of Approval? Restructuring the Post Office Network (HC 276)' (ISBN 0215033612, available below). Although the Committee are satisfied with some key aspects of the Government's reply, they were dissatisfied with others and have therefore written this short report.
The matters that require further clarification include:
the length of time for the consultation process;

the ability of Postwatch to contribute to the consultation whilst being merged into the National Consumer Council;

ways to encourage sub-postmaster to develop more varied and higher value services;

the future of the Post Office Card Account and the need to be able to use it to make deposits; and

what happens if there are unplanned closures.
| | | | |
| --- | --- | --- | --- |
| Extent | 19 pages | Sub. No. | |
| Size | A4 | Price | [?DiscountedPrice:?] |
| Format | Paperback | | |
| Availability | [?AvailabilityAlt:?] | Delivery | Delivery options and charges |