Scottish Affairs Committee
Show me:
The Sewel Convention: the Westminster perspective fourth report of session 2005-06 report, together with formal minutes, oral and written evidence
House of Commons papers 983 2005-06
Format:

Corporate Author:

Great Britain Parliament House of Commons Scottish Affairs Committee

Author:

Mohammad Sarwar (chairman)

Publisher:

TSO (The Stationery Office)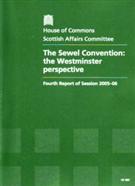 The Sewel Convention seeks to ensure that the UK Parliament legislates on devolved matters only with the express agreement of the Scottish Parliament, and consent is also required for legislation on reserved matters if it alters the powers of the Scottish Parliament or Scottish Ministers. Following on from a report by the Scottish Parliament Procedures Committee on the operation of the Convention (SP paper 428, 7th report, session 2 (2005) (ISBN 1406113220) published in October 2005), the Committee's report focuses on ways of improving the communications procedure between the Scottish and Westminster Parliaments, and how MPs could be better alerted that a particular Bill before Parliament had been subject to a Sewel motion in the Scottish Parliament. Recommendations made include: the introduction of a formal process whereby the Scottish Parliament notifies Westminster when a Sewel motion has been passed and the 'tagging' of all relevant public Bills; and the need for an explicit statement on explanatory notes to Bills as to which parts of the UK the provisions will affect. The report also recommends the further consideration of the need to establish a 'Super' Scottish Grand Committee, composed of Scottish MPs, MSPs and Scottish MEPs, to discuss matters of mutual interest.
Find similar publications here: