Public Accounts Committee
Show me:
Jobskills: tenth report of session 2005-06 report, together with formal minutes, oral and written evidence
House of Commons papers 564 2005-06
Format:

Corporate Author:

Great Britain Parliament House of Commons Committee of Public Accounts

Author:

Edward Leigh (chairman)

Publisher:

TSO (The Stationery Office)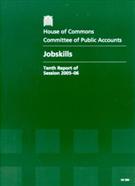 Jobskills is a large-scale training programme in Northern Ireland, established in 1995 to raise the employability of unemployed young people (aged 16 to 24 years old) by access to attainment of national vocational qualifications (NVQs). Following on from a report by the Northern Ireland Audit Office (HC 762, session 2003-04/NIA paper 47/03; ISBN 0102925461) published in July 2004, the Committee's report examines four main issues: the quality of training delivered; the effectiveness of the programme; the targeting of skills needs; financial monitoring and control of the programme. Overall, the Committee judges the Jobskills programme to be one of the worst-run programmes it has examined in recent years, with a catalogue of failures and control weaknesses which indicate a disturbing level of complacency with the Department for Employment and Learning in Northern Ireland. Given the serious and ongoing concerns raised, the Committee concludes that the programme has provided poor value for money for the funding costs of £485 million invested to March 2003.