Foreign Affairs Committee
Show me:
Foreign and Commonwealth Office annual report 2003 twelfth report of session 2002-03 report, together with formal minutes, oral and written evidence
House of Commons papers 2002-03 859
Sorry, this book is currently not available
Format:

Corporate Author:

Great Britain Parliament House of Commons Foreign Affairs Committee

Author:

Anderson Donald chairman

Publisher:

TSO (The Stationery Office)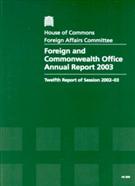 Some of the Committee's recommendations are as follows:- the title of the FCO Departmental Report should, in future, refer to the period upon which it reports, rather than the year in which it is published. On the whole, the 2003 report is well-presented and informative, but future reports need to report failure to fully achieve targets as well as areas where targets have been met, or surpassed. Efforts to improve the understanding of the UK in the Arab and Muslim worlds are laudable, and should be continued. It is regrettable that some posts in Central America and West Africa have been closed down, and that there is still no British Embassy in Kyrgyzstan. It is regretted that the Focus (IT) project was cancelled, and lessons should be learnt from this incident. The asset recycling programme is open to criticism that overseas FCO properties are being sold off below their real value, for instance, the sale of the Consul General's Residence in San Francisco and the proposed sale of the British Embassy building in Prague.