Environment, Food & Rural Affairs Committee
Show me:
Biofuels seventeenth report of session 2002-03 Vol. 1 Report, together with minutes of proceedings
House of Commons papers 2002-03 929-I
Sorry, this book is currently not available
Format:

Corporate Author:

Great Britain Parliament House of Commons Environment, Food and Rural Affairs Committee

Author:

Curry David chairman

Publisher:

TSO (The Stationery Office)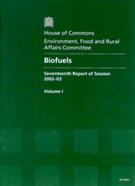 Biofuels are transport fuels that are produced from plant material; for example, bio-ethanol, which is used in petrol engines, is mainly made from starch and sugar crops. Using biofuels to replace conventional fossil fuels can help reduce greenhouse gas emissions. The Biofuels Directive (from the EU) requires member states to set targets for the substitution of petrol and diesel with biofuels to be reached by 2005 and 2010. The Government's biofuels policy, to the extent that it has one, appears muddled and unfocussed. The current level of duty derogation of 20 pence per litre for biodiesel has not been enough to stimulate the development of domestic production. Defra, as the Department with overall responsibility for sustainable development, needs to clarify the goals of the Government's biofuels policy.