Modernisation of The House of Commons Committee
Show me:
Programming of bills: first report of session 2002-03 report, together with formal minutes and written evidence.
House of Commons papers 2002-03 1222
Sorry, this book is currently not available
Format:

Corporate Author:

Great Britain Parliament House of Commons Select Committee on Modernisation of the House of Commons

Author:

Hain Peter chairman

Publisher:

TSO (The Stationery Office)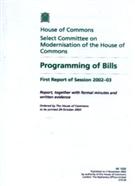 Since they were first introduced in 1887, the allocation of time orders have been used to impose a timetable on proceedings on public bills, and in recent years, it has been suggested that timetabling procedures should be used more routinely. The Committee's report reviews the history of debate about this issue, examines some of the problems with the way in which programming operates and suggests solutions. The Committee concludes that the purpose of programming is to enhance Parliamentary scrutiny of bills, not to curtail legitimate debate; and that the legislative process should meet four key criteria: that the Government can be certain of getting its legislation, subject to approval of the House, through in a reasonable time; the Opposition and MPs in general have full opportunity to debate the bill and make amendments; all parts of a bill must be properly considered; and properly prepared so as not to require lots of new Government amendments. The Committee states its intention to keep the issue under review, and concludes that programming alone will not achieve better scrutiny of bills, and measures to improve pre-legislative scrutiny are also essential.