Science & Technology Committee
Show me:
The scientific response to terrorism eighth report of session 2002-03 Vol. 1 Report, together with formal minutes
House of Commons papers 2002-03 415-I
Sorry, this book is currently not available
Format:

Corporate Author:

Great Britain Parliament House of Commons Science and Technology Committee

Author:

Gibson Ian chairman

Publisher:

TSO (The Stationery Office)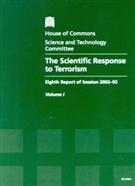 The report examines how science and technology is used in countermeasures to chemical, biological, radiological and nuclear (CBRN) devices employed by terrorists. Areas of good practice are pointed out, for example the Office of the Deputy Prime Minister's (ODPM's) New Dimension programme of procurement for the Fire Service, but there has been very little new investment in long-term research and development in this field, for instance, the lack of emphasis on scientific research in the Home Office. The Committee proposes a Centre for Home Defence, under the Home Office, to develop technologies for civilian use. The surveillance of dangerous chemicals and pathogens, both nationally and internationally, is a matter or concern. The Government has also imposed an unnecessary and counterproductive level of secrecy surrounding its counter-terrorism research.