Northern Ireland Affairs Committee
Show me:
The illegal drugs trade and drug culture in Northern Ireland eighth report of session 2002-03 Vol. 1 Report, together with formal minutes
House of Commons papers 2002-03 1217-I
Sorry, this book is currently not available
Format:

Corporate Author:

Great Britain Parliament House of Commons Northern Ireland Affairs Committee

Author:

Mates Michael chairman

Publisher:

TSO (The Stationery Office)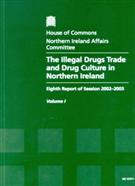 Following on from the Committee's earlier report on the cannabis drugs trade and drug culture in Northern Ireland (published in May 2003, HCP 353-I; ISBN 021501068X), this report examines the history of illegal drug use in Northern Ireland, demand and supply aspects, comparisons with the situation in Britain and the Republic of Ireland, social consequences including the impact of drug-related crime, health effects, drug treatment and education services, the Government's drugs strategy and enforcement measures. The Committee concludes that since the 1990s, class A drugs such as ecstasy, cocaine and heroin have become more readily available throughout Northern Ireland, and although the numbers of drug users have not yet reached critical mass, it is a growing problem. Criminal networks established to support and finance terrorism have increasingly turned to organised crime, including the drugs trade. The report states that a rapid increase in drug use may be as little as three years away, and unless sufficient funding is made available for prevention initiatives, primarily in the health and social services, as well as education and criminal justice measures, there is a real danger that the Government will find itself unprepared to deal with the health, social and economic consequences of such an increase.
Find similar publications here: