Science & Technology Committee
Show me:
The work of the Engineering and Physical Sciences Research Council ninth report of session 2002-03 report, together with formal minutes
House of Commons papers 2002-03 936
Sorry, this book is currently not available
Format:

Corporate Author:

Great Britain Parliament House of Commons Science and Technology Committee

Author:

Gibson Ian chairman

Publisher:

TSO (The Stationery Office)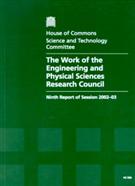 As part of its rolling programme of scrutiny of the activities of the Research Councils, the Committee's report examines all aspects of the work of the Engineering and Physical Sciences Research Council (EPSRC), including its support for research and researchers, technology and knowledge transfer, feedback and audit, its communication with the research community and the public, and its role in developing UK research policy. The Committee's findings include support for innovative policies such as the Doctoral Training Accounts, and for the Porfolio Partnerships research funding scheme, although concerns are raised about the Council's refusal to allow contract research staff to apply for grants. Although EPSRC application rates are higher than other research councils, it is concluded that the Council could have done more to manage the supply and demand for its grants, and that more work needs to be done to improve its relations with industry, particularly with SMEs.
Find similar publications here: