Education & Skills Committee
Show me:
Secondary education pupil achievement seventh report of session 2002-03 report, together with formal minutes, oral and written evidence
House of Commons papers 2002-03 513
Format:

Corporate Author:

Great Britain Parliament House of Commons Education and Skills Committee

Author:

Sheerman Barry chairman

Publisher:

TSO (The Stationery Office)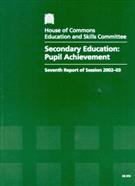 Following on from its earlier report into specialist schools designed to extend diversity of provision (HCP 94, session 2002-03; ISBN 021501085X), the Committee now focuses on pupil achievement at the secondary education level. Findings include that, although there have been significant achievements in raising levels of literacy and numeracy at primary level, the Government's approach at secondary level lacks a clear focus. For example, Education Action Zones, introduced in 1998, are being merged into Excellence in Cities, without sufficient detailed evaluation, and information on differences in performance between minority ethnic pupils is also lacking. Doubts are also expressed over the continued setting of national targets, and the Committee recommends allowing schools to set their own targets, subject to review by local authorities and Ofsted, based on individual progress plans for their pupils. Poverty is found to be a significant indicator of low educational achievement, and effective strategies will require co-ordination across the Government as a whole.